The greatest feature of Hotel Daiheigen is the vast natural expanse of Tokachi, Hokkaido.
Tokachi lays claim to the richest area of natural wonders in Hokkaido.
Surrounded by the Daisetsuzan National Park and Akan National Park, Tokachi River flows from the Daisetsu Mountains and meanders through the extensive Tokachi Plain.
Tokachigawa hot spring is a rare moor hot spring that contains an abundance of organic plant matter, and is known for its beautifying qualities.
In addition, this area is blessed with a wide variety of ingredients that infuse the dishes with the unique tastes of the seasons.
Guest Rooms
Comfortable, well-appointed rooms each with its own atmosphere
Beyond the common theme of relaxation, each room has its own inimitable atmosphere.
The great natural vistas evolve through the seasons and over time.
On opening the window, fresh air with the sweet fragrance of greenery and flowers will flow into the room.
Various types of rooms are available to suit your preference.
Onsen Bath
Beautify yourself with the smoothing and moisturizing effect of our hot spring
The rich blessings of nature in Tokachigawa Onsen will awaken all your senses.
Known as a "beautifying hot spring", the plant-derived moor hot spring abounds in natural moisturizing ingredients that leave your skin smooth after bathing.
Experience for yourself the exquisite spring quality in our large communal spring baths and open-air baths.
Cuisine
Seasonal produce from our own farm and across Hokkaido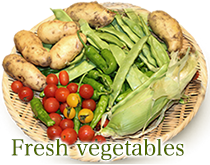 Seasonal produce of Daiheigen Farm and Tokachi
Many of the vegetables served in our restaurants are lovingly produced at the hotel's Daiheigen Farm.
They excel not only in flavor but also in terms of purity, since we hardly use any pesticide, and our vegetables are grown in soil tilled with pride under the bright sunshine of Tokachi.